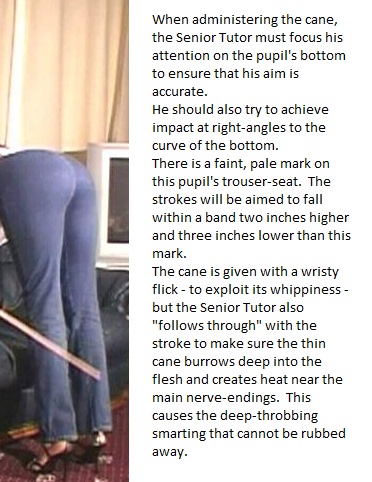 As she re-entered the study where the Senior Tutor had just punished her, he gave her a big hug of forgiveness and reconciliation. She was consumed by a huge sense of relief that her punishment was over and she had atoned. And she felt fiercely proud that she had shown the Senior Tutor she could take a caning with good grace.
Her bottom was still smarting - quite a lot, actually - but that did not stop her from feeling immensely grateful to him for taking her in hand and making her feel incredibly secure and cherished. Indeed, the hot stinging was a good reminder that she had someone watching over her, and a sure sign that she would have some stripes across her bottom to admire in the mirror before bedtime.
As he hugged her - chastely but fondly - she recalled how events had unfolded.
After her various delays and excuses, he had ordered her, expressly, to return the library book, and pay the fine, by 5 pm. And she hadn't. She had forgotten. Or had she subconsciously disobeyed him to see what would happen to her if she did? She wasn't quite sure herself.
She was quite sure what had happened next, however. When she reported the matter, she was immediately summoned to a special review meeting; and told to report wearing a thin pair of trousers.
By the time she reported, and knocked on the Senior Tutor's door, she felt very nervous and not a little bit scared.
As the Senior Tutor began to reprimand her, she also started to feel very small. He was calm, polite and formal; and he made it crystal clear to her that she had been blatantly disobedient and that she both deserved and needed to be severely punished. With mounting dread, she suffered her reprimand meekly and waited to hear what her punishment would be. Whatever it was, there would be no question of arguing; she would simply have to accept it.
Eventually - in a quiet, still voice - he told her. She would get the cane: she would
bend over to receive 12 strokes across the seat of her trousers.
She was then told to go to the loo and remove her panties - so she had no protection under her thin trousers - and then to stand in the hall outside the study and wait to be called in.
The waiting made her more and more nervous and scared. There was no question of getting out of the punishment, it was inevitable; but would she be able to take it with good grace, or even at all? Or would it hurt so much - her thin trousres would give her very little protection - that she jumped up and wailed and generally made an exhibition of herself? She was desperate to avoid making the Senior Tutor think she was a coward and a wimp.
The waiting was so horrible that the sudden panic - and sinking feeling in her stomach - as she was suddenly called in, seemed almost preferable.
She saw the cane he was about to use on her lying on a table, but she had no time to linger on it. The Senior Tutor pointed to a chair placed against the wall, with its seat facing outwards.
"Go and face the chair. When I tell you to bend over, grip the low struts and rest your forehead on the seat. Keep your legs together and straight."
She went to the chair, the order came, and she did as directed.

Bending down so far thrust her bottom up and made it tightly rounded. She could feel the thin, smooth material of her trouser seat stretching and clinging like a second skin to her soft buttocks. The position was so humbling and submissive that it would have been a punishment in itself. But of course the punishment was far more than that. She had to receive 12 strokes of the cane, and, after each stroke, to count it out loud and say "for being disobedient".
The sudden, explosive violence of a stroke of the cane landing was the more shocking because of the ritual civility and politeness that had preceded it. The whippy cane, its last 9 inches travelling at enormous speed, landed with a loud thwack and had the rest of its energy absorbed by her fleshy bottom.
She found the pain was more intense than she had been able to imagine; and made worse because she knew the Senior Tutor was making every stroke hurt a lot to signify his disapproval of her disobedience. After 3 punitive strokes, she feared she would not be able to cope.
However, she persevered and, after 6 strokes he gave her a half-time pause to help recover herself a bit.
Eventually, she counted out "12". Her bottom was ablaze but she had made it. She had jumped up twice - when she just couldn't help it - but on each occasion she had very quickly got back into position again. She felt very proud that she had taken her caning bravely and co-operated fully.
The Senior Tutor then directed her to go and stand in the corner, with her forehead against the wall, and pull down her trousers to display her cane marks. She already felt so chastened and submissive that the order seemed perfectly natural. And the humbling effect of having to show cane stripes across her bottom was somewhat balanced by her pride in showing the Senior Tutor how brave she had been to accept what he had done to her.
After what seemed an age, but was probably no more than 5 minutes, she was told to pull her trousers up but remain in the corner for what seemed another age (perhaps 10 minutes).
Then she was dismissed. She said "thank you" and meekly left the room.
*****
Now she was back and getting her hug of forgiveness. This was followed by a glass of wine.
"I'm sorry I jumped up a couple times, but I just couldn't help it. I got back as quickly as a could. Were you happy with the way I took it?"
"Yes, you were very brave - and very co-operative and polite, as I expect you to be."
"Thank you. I feel quite proud of that." She paused. "Next time you cane me, it'll be better because now I know I can survive it; but also worse because I'll know what's coming next and how just much it hurts.'
"You expect to get the cane again, do you?"
"It's a jolly good punishment. You'll cane me if I deserve it, won't you?"
"Yes, I will,"
"Well then, I certainly expect I'll get it again. Quite a few times, probably."